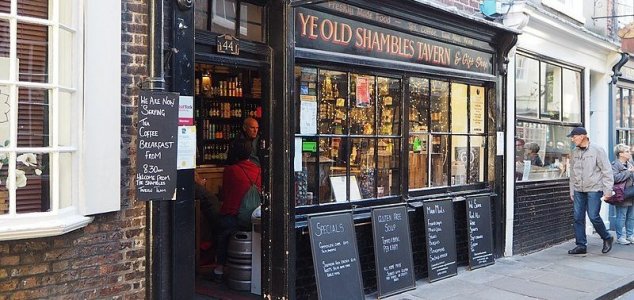 Something strange is happening at the Shambles Tavern. Image Credit: CC BY-SA 4.0 Malcolmxl5
Footage has emerged this week of an alleged 'poltergeist' causing havoc in a historic pub in England.The video, which was filmed in Ye Old Shambles Tavern in York, shows supervisor Luke Smithson working at the bar when a stack of boxes and other items suddenly come flying off a nearby shelf.
The incident happened at 7.20am on Monday July 1st.
"I was just about to do my second line clean," said Smithson. "I walked around the bar and suddenly everything just flew from the shelves. All the boxes flew all over the bar. A couple of glasses came off as well. There was proper force behind it – even the speaker on the top shelf was knocked down."
The building itself is no stranger to paranormal occurrences with staff members previously reporting the sound of mysterious disembodied footsteps echoing in its rooms after closing time.
Whether something otherworldly accounts for this particular occurrence however remains unclear.